Pratique de la jachère dans les terroirs Senoufo du Nord de la Côte d'Ivoire
THE PRACTICE OF FALLOWING BY THE SENOUFO IN NORTHERN IVORY COAST Two visits, at 14-year intervals, in two Senoufo villages in the north of the Ivory Coast, made possible an analysis of the evolution which has taken place and brought to light the difference between the two types of agriculture in practice. The village of Syonfan is dynamic with an important augmentation of cultiwated areas, this due to the development of mechanization. The village of Karakpo is less ready to accept any innovations and this has led to the stagnation of mechanization and a moderate progress in gains in cultivated superficy. Paradoxically, in the first village, fallowing, preceeding planting of the individual parcels, is longer, this, where pressure on land is even greater. The responsibility for overgrazing lies probably with the herds belonging to the Peuls. The second locality, where there is a large availability of land, sees a natural development of vegetation after the fields have been abandoned.
Deux passages, à quatorze ans d'intervalle, dans deux villages sénoufo du nord de la Côte-d'ivoire, permettent d'analyser les évolutions survenues et de mettre en évidence l'écart entre deux agricultures pratiquées. Syonfan est dynamique, avec une augmentation importante des superficies cultivées, rendue possible par le développement de la mécanisation. Karakpo est plus timide dans l'acceptation de l'innovation : stagnation de la mécanisation et progression modérée des superficies. Paradoxalement, les jachères précédant la mise en culture des parcelles sont plus longues dans le premier village, où la pression foncière est pourtant plus forte. Le surpâturage, dû à l'installation de troupeaux peuhl en est peut-être responsable. La seconde localité, dont la disponibilité en terres est importante, voit par contre un développement naturel de la végétation après abandon d'une parcelle.
Fichier principal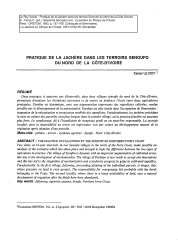 LEROY.pdf (849.24 Ko)
Télécharger le fichier
Origin : Publisher files allowed on an open archive