Pauvreté et accès à l'eau dans la vallée du Sénégal
Water poverty in the Senegal Valley Considering the flood-recession agriculture, the hydraulic history of the valley of the Senegal River is ancient, but knows a deep mutation since the introduction of the irrigation. Can one speak of water poverty, whereas two dams now control the water flow of the Senegal River and ensure a permanent abundance in water ? The answer to this questioning is proposed through the link between poverty, access to funding, access to land, and involvement in resource management.
L'histoire hydraulique de la vallée du fleuve Sénégal est ancienne et remonte à la culture de décrue. Mais elle connaît une profonde mutation depuis l'introduction de l'irrigation. Peut-on parler de « pauvreté hydraulique », alors que deux barrages régulent à présent le régime du fleuve Sénégal et assurent une permanence de l'abondance en eau ? La réponse à cette question est proposée sous l'angle de l'articulation entre la pauvreté, l'accès au financement, l'accès au foncier, la participation à la gestion de la ressource.
Fichier principal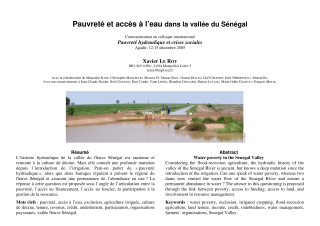 Le_Roy_-_Pauvrete_et_acces_a_l_eau_dans_la_vallee_du_Senegal.pdf (700.86 Ko)
Télécharger le fichier
Origin : Files produced by the author(s)