Transformations agraires et nouvelles mobilités autour d'un grand barrage (Bagré au Burkina Faso)
Large-scale dam constructions are seen as one of the best solutions to food shortages in Burkina Faso. Indeed, the increase in water resources makes it possible to boost and diversify food production. However, these large dams transform the farming pratices of the villages concerned. Thus, farming zones above the Bagré dam have broken up as a result of the filling of the dam. The intensive farming practised around the compounds and on the banks of the Nakambé, is replaced by an extensive type of farming in the form of fields cultivated in the deep bush; such fields are outside the areas covered by the health centres. During the rainy season, the farmers are obliged to settle down on these fields, thus reducing their chances to have access to health care during a period when food shortage becomes more acute and the consumption of rain water exposes the populations to all sorts of diseases.
Les décideurs politiques et les développeurs économiques ont longtemps considéré les grands aménagements hydro-agricoles comme une réponse probante à la gestion du risque d'insécurité alimentaire au Sahel. En effet, l'usage maîtrisé de l'eau est sensé permettre un accroissement et une diversification de la production alimentaire même si cela réactive certaines pathologies et risques sanitaires. La mise en eau d'un grand barrage modifie également fortement les modes de gestion de l'espace et de mise en valeur des potentialités. Autour du barrage de Bagré (sud du Burkina Faso), les structures agraires (éclatement des terroirs) et le mode de vie des riverains (allongement des déplacements, modification alimentaire) ont connu d'importantes mutations tandis que l'agriculture sèche, pratiquée autour des concessions, et le jardinage intensif, sur les berges de la rivière Nakambé, laissent progressivement la place à des modes de conduite plus extensifs. À l'instar des espaces sahéliens vrais, on observe un renforcement du phénomène de saisonnalité intra-annuelle. Ainsi, au cours des mois d'hivernage, les actifs agricoles résident dans des hameaux de culture excentrés par rapport aux villages et aux infrastructures socio-sanitaires constituées par les Centres de santé et de protection sociale (CSPS) et les écoles. Cette période est également critique en raison des ajustements alimentaires imposés par l'amenuisement (ou la disparition) des stocks céréaliers et de la consommation d'eau des puisards alors même que la fréquentation saisonnière des centres de santé diminue.
Fichier principal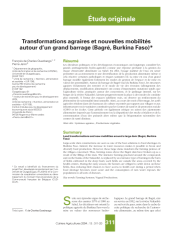 Transformations_agraires_et_nouvelles_mobilites_OUEDRAOGO_et_JANIN_2004_.PDF (304.34 Ko)
Télécharger le fichier
Origin : Publisher files allowed on an open archive