L'insécurité alimentaire rurale en Côte d'Ivoire : une réalité cachée, aggravée par la société et le marché
The literature in Sub-Saharan Africa has put the emphasis on two main subjects: geographical vulnerability to climate changes and extremes; the economical dimension of food insecurity while urban populations are facing a daunting set of problems including increasing poverty, social inequalities and political insecurity. It has seldom drawn on the studies of rural food insecurity in non-sahelian areas and rural societies capable of coping with low climate instability. Most people consider that the major risk facing rural households stems from drought and famine - caused by ineffective regulations or insufficient food supplies - rather than from poverty, inadequate capacity for earning food, or inappropriate behaviour combined with geographical enclavement. Data were collected from two 1997 household surveys carried out, in collaboration with Bouake University, in the western Baule and southern Senufo areas, ''in-between'' agricultural parts of Ivory Coast (Figure 1). The panel data of 320 cotton and food crop small-holders was built upon economic and demographic criteria in order to give a representative idea of the geographical diversity. This paper draws on such studies to show that rural food insecurity is rapidly changing, widening the gap between earns, costs and needs in a post-structural adjustment period. It seems now - under circumstances where the rural smallholders may spend a larger portion of their total income on expensive outlays such as fertilizers or insecticides while maintaining social expenses or may sell more supplies for the urban market - that food security now belongs to individual strategies of earnings more than traditional status and land entitlements according to collective traditional decision making. The data also show the importance of local and outside non-farm earnings to food security, or rather to the economic ability to face unexpected changes and the disruption of livelihoods (Table 2 and Figure 2). Moreover, the lack of perception and the shifting of responsibility for coping with environmental depredation away from the individual and collective level towards the state or the NGO's has tended to increase the risk of food insecurity in densely inhabited areas where rural producers are still practising shifting cultivation.
Si l'agriculture ivoirienne est réputée pour le dynamisme à l'exportation des agro-industries et des petites plantations familiales cacaoyères et cotonnières, une fraction importante du monde rural - le Centre et le Nord - pratique encore essentiellement une agriculture extensive de subsistance. Celle-ci est toutefois insérée depuis longtemps dans les échanges marchands et joue un rôle croissant dans l'approvisionnement des marchés urbains nationaux et sous-régionaux depuis la dévaluation du franc CFA. En zone centrale ivoirienne, le niveau élevé des « disponibles vivriers » après récolte garantit habituellement l'autonomie alimentaire du groupe familial et réduit le risque d'insécurité à certains épisodes exceptionnels. Or, avec le changement de mode de régulation macro-économique et la dégradation accélérée de l'environnement, la nature et l'intensité de ce risque évoluent progressivement. Il ne dépend plus seulement des disponibilités mais également des modes de gestion et de répartition des ressources. À l'avenir, il dépendra plus encore, comme en milieu urbain, de la capacité à acheter des denrées sur le marché. L'insécurité alimentaire existe donc mais reste souvent cachée et progresse de manière très inégale selon l'orientation économique des petites exploitations familiales.
Fichier principal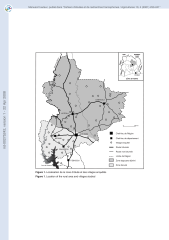 Carte_de_situation_de_la_zone_d_enquete_JANIN_2001_.pdf (1.25 Mo)
Télécharger le fichier
L_insecurite_alimentaire_rurale_en_Cote_d_Ivoire_JANIN_2001_.pdf (231.7 Ko)
Télécharger le fichier
Origin : Files produced by the author(s)
Origin : Files produced by the author(s)