Incertitudes et « jeux céréaliers » en Afrique de l'Ouest : quels enseignements politiques ?
Studies on food security in West Africa are still often based on deterministic or accounting presumptions whereby the roles of actors, the logics of action and the perceptions, or even the sociohistorical contexts, appear minimised. In this text, we attempt, using the theoretical framework og the "grain-game", to trace the entire complexity in order to draw some lessons relevant to a policy for the reduction of food insecurity. The cooperation between actors hence appears as a mean for enabling a more efficient and esuitable sociopolitical regulation of the food system.
Les études sur l'insécurité alimentaire en Afrique de l'Ouest s'appuient encore trop souvent sur certains a priori déterministes ou comptables où les jeux d'acteurs, les logiques d'action et les perceptions, voire le contexte socio-historique semblent un peu minimisés. Dans ce texte, nous nous efforcerons à l'aide du cadre théorique du « jeu céréalier » d'en restituer toute la complexité afin d'en tirer quelques enseignements pour une politique de réduction de l'insécurité alimentaire. La coopération entre les acteurs paraît ainsi une voie à privilégier pour une régulation socio-politique plus efficace et équitable du système alimentaire.
Fichier principal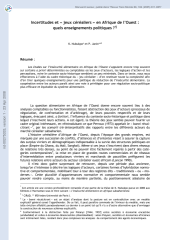 Incertitudes_et_jeux_cerealiers_en_Afrique_de_l_Ouest_NUBUKPO_et_JANIN_2005_.pdf (218.12 Ko)
Télécharger le fichier
Origin : Files produced by the author(s)