La question alimentaire en Afrique : risque et politisation
Without pretending to a systematic comparison, this study examines the risks involved in the management of food in several African countries. The articles expose the gap between the initial intentions of food policies, their implementation and local situations. They stress the weakening of the State, the growing strenght of trading networks and individual citizen initiatives, which constitute the most of the relations between the actors of food system, while indicating thre plurality of their perceptions, usages and normatives frameworks. Such are the stages of a reflection which examines the relationship between theoritical frameworks, development models and the game of actors.
Sans prétendre au comparatisme systématique, ce dossier aborde la question de la gestion des risques alimentaires dans plusieurs pays d'Afrique (Maghreb, Afrique de l'Ouest, Ethiopie). Les études présentées font ressortir le décalage entre les intentions initiales des politiques alimentaires – fortement marquées par les réponses de court terme aux situations d'urgence et les options de développement agricole – leurs processus d'élaboration (après réappropriation des discours) et leur mise en œuvre concrète ainsi que la diversité des situations locales, géographiques comme sociopolitiques. Les différents textes soulignent le dépérissement de l'État aux effets ambivalents, la place croissante des réseaux marchands et l'émergence progressive des initiatives citoyennes ou individuelles. Parallèlement, le renouvellement relatif des discours normatifs sur l'insécurité alimentaire conduit à modifier les perceptions et les pratiques des différents acteurs impliqués. Sont ainsi posés les jalons d'une réflexion qui envisage les relations entre les cadres théoriques, les modèles de développement et les jeux d'acteurs.
Fichier principal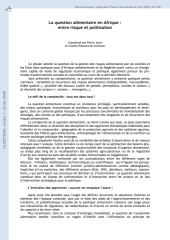 Introduction_Dossier_Question_alimentaire_JANIN_et_SUREMAIN_2005_.pdf (114.38 Ko)
Télécharger le fichier
Origin : Files produced by the author(s)