Jeux d'esprits : ce que sont les esprits pour les Kulung
This paper aims to show how a population with an oral tradition, the Kulung from Nepal, conceives spirits and, through that description, to seize the status which should be given to such representations in the language of anthropological analysis. I argue that spirits are not stable representations. Rather, they are representations varying according to the situations in which they actualize themselves. The study of such situations (encounters with spirits and narratives about them, misfortune and divination, ritual, myth), which I label "fields of actualization", reveal that underlying representations of spirits are not homogeneous – notably whether they have to do, according to the Kulung outlook, with re-presentations (evocating an absence) or manifestations (marking a presence). These representations are more or less articulated together according to a logics of looseness and of doubt. Unstable, these representations which allows the articulation of elements otherwise incompatible must constantly be rethought, which allows the elaboration of an implicit cosmology, partly built within the framework of action.
Cet article propose d'approcher la manière dont une population de tradition orale, les Kulung du Népal, conçoivent les esprits et, par là, de tenter de saisir le statut à donner à ces représentations dans le langage de l'analyse anthropologique. On y défend l'argument que les esprits ne sont pas des représentations stables, mais qu'elles varient selon les situations lors desquelles elles s'actualisent. L'étude de ces situations(les rencontres et leur mise en récit, l'infortune et la divination, le rituel, le mythe), que nous nommons ici "champs d'actualisations", révèlent que les représentations sous-jacentes des esprits varient – notamment selon qu'il s'agit, pour les Kulung, de re-présentations (l'invocation d'une absence) ou de manifestations (marque d'une présence). Ces représentations s'articulent plus ou moins entre elles selon une logique du flou et du doute. Instables, ces représentations, qui permettent l'articulation d'éléments autrement inconciliables entre eux, doivent constamment êtres repensées, ce qui permet ainsi l'élaboration d'une cosmologie implicite, qui se construit en partie dans l'action.
Fichier principal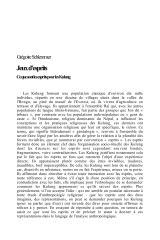 G.Schlemmer_jeux_d_esprits.pdf (357.68 Ko)
Télécharger le fichier
Origin : Files produced by the author(s)