Le scepticisme des informateurs de terrain : calvaire de l'enquêteur ou matériaux pour une analyse anthropologique ?
Motivated by the doubt installed in people my research has lead me to meet, my intention in this article is to show that doubt is not necessarily merely a parasite to be eliminated, but can of itself be the object of analysis. The article seeks to show that doubt is not the opposite of belief – in the sense of a cognitive attitude of confidence in the truth of one's findings – but rather that it is the foundation of belief. Doubt gives us the distinction between knowledge and belief. Belief requires confidence in the bearer of findings to which one adheres – a bearer who must therefore be an authority. It is thereby possible to propose a political approach to doubt. Using several concrete examples, the article shows that doubt can be an active element in one's relations to power and that the multiplicity and contextuality of truths underlying the plurality of forces in play in the group and between groups.
Motivé par la prégnance du doute chez les gens auxquels mes recherches terrain m'ont confrontées, mon propos, dans cet article, est de montrer que le doute n'est pas nécessairement un élément parasitaire à évincer, mais peut faire l'objet d'analyse. L'article cherche à montrer que le doute ne s'oppose pas à la croyance — entendue comme attitude cognitive de confiance en la véracité d'un énoncé — mais qu'il la fonde, en permettant d'offrir une distinction entre ce qui, pour les gens eux-mêmes, relève du savoir ou de la croyance. La croyance nécessitant une confiance dans l'énonciateur du discours auquel on adhère — énonciateur qui doit donc faire, de ce fait, autorité — il est possible de proposer une approche politique du doute. A travers plusieurs exemples concrets, l'article montre ainsi que le doute peut être un élément actif dans les relations de pouvoir, et que la multiplicité et la contextualité des vérités sous-tendent la pluralité des forces en jeux dans le groupe, et entre groupes.
Fichier principal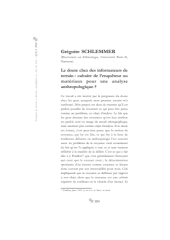 G.Schlemmer._Le_doute.pdf (100.79 Ko)
Télécharger le fichier
Origin : Explicit agreement for this submission