Consommer la ville en passant : visites guidées et marketing de la différence à Cartagena de Indias (Colombie)
The authors treat in this article of the performance of difference in the tourist presentation of Cartagena de Indias, on the Colombian Caribbean coast. They centre their analysis on the "paseo en chiva", guided tour in a folk bus which circulates from a tourist place to another to show how the city becomes an object of consumption, through which the local history and culture become easily appropriable global products and signs. Principal place of the slave trade on the territory of the New Grenade, but also incarnation of a Spanish colonial past, Cartagena allows us a reflection on the identities of and in the city, which refers to the marketing of black culture and bodies, and to the evocation of the mestizaje associated with Latin America. At the crossing point between urban and ethnic studies, this article proposes an analysis of the production of a place in which differences are tourist resources, that can be consumed while passing by, thus producing standardized and stereotyped history and identities which act in return on the relation of the inhabitants to their city.
Cet article traite de la mise en scène de la différence dans la présentation touristique de Cartagena de Indias, sur la côte Caraïbe colombienne. En se centrant sur la pratique du paseo en chiva, visite guidée dans un bus folklorique qui circule d'un lieu touristique à un autre, il s'agit de montrer comment la ville se transforme en objet de consommation, à travers lequel l'histoire et la culture locales deviennent des produits et des signes aisément appropriables globalement. Ancien port d'entrée des esclaves sur le territoire de la Nouvelle Grenade, mais aussi incarnation d'un passé colonial espagnol, Cartagena se prête particulièrement à une réflexion sur les identités de et dans la ville, qui se réfère tout autant à la commercialisation de la culture et du corps noirs qu'à l'évocation d'un métissage associé à l'Amérique latine. Au croisement entre études sur la ville et sur l'ethnicité, cet article propose une analyse de la production d'un lieu dans lequel les différences sont autant de ressources touristiques, pouvant être consommées tout en déambulant, produisant ainsi une histoire et des identités standardisées et stéréotypées qui agissent en retour sur le rapport des habitants à leur ville.
Fichier principal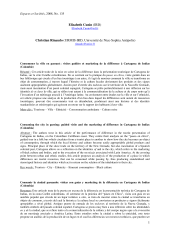 07-Consommer_la_ville_en_passantE_SDEF.pdf (302.8 Ko)
Télécharger le fichier
Origin : Files produced by the author(s)