Un savoir thérapeutique hybride et mobile : éclairage sur la recherche médicale en médecine chinoise en Chine aujourd'hui
The issue of innovations in TCM (zhongyi) - the Chinese medicine integrated in the public health system promoted by the post-1949 Chinese government, is approached through the case-study of the ongoing biomedicalisation of TCM research and the use of 'evidence-based medicine' (EBM) through clinical trials. Three points will be discussed: the fi rst introduces a 'plural' medical context and a recent debate in China on the issue of pulling-out TCM from the public health-care system involving offi cial actors, population at large and the academics. The second focuses on aspects of research and development through the case-study of AIDSrelated TCM research in China today. The last point discusses the biomedicalisation of research in TCM and its conceptualisation as CAM in a context of TCM fast-track globalisation. Therefore, such discussion raises the broad issue of the interfaces and cultural politics of knowledge. La introducción de innovaciones en la Medicina China Tradicional (zhongyi, MCT) y la infl uencia de la medicina de pruebas (evidence-based medicine, EBM) como modelo de validación científi ca y de legitimación con recurso a las pruebas clínicas sistematicas, revelan un proceso de biomedicalización de la investigacion científica en esta área. La MCT es un forma estandard de medicina china integrada en el sistema de salud publica promocionado por el gobierno de China desde los anos 1950. Tres aspectos se discuten en el presente artículo: el primero es la introducción en el contexto medico plural actual de un debate sobre la integración de la MCT en el sistema de salud pública. Este debate ha mobilizado actores ofi ciales, intelectuales, y la población en general. El segundo punto es dar una perspectiva sobre la investigación y desarrollo en MCT con el caso de la investigación medica sobre el SIDA. El último punto trata de la biomedicalización de la MCT y su conceptualización como CAM en un proceso de globalización muy rápido de la MCT. Se tratan así temas más generales como son el rol de los interfaces de los conocimientos terapéuticos híbridos y de la construcción de espacios terapéuticos globalizados.
L'introduction d'innovations en Médecine Chinoise Traditionnelle (zhongyi, MCT) et l'influence de la médecine des preuves (evidence-based medicine, EBM) comme modèle de validation scientifi que et voie de légitimation avec un recours aux essais cliniques qui se systématise sont révélateurs du processus de biomédicalisation de la recherche à l'oeuvre aujourd'hui. La MCT est la forme standardisée de médecine chinoise intégrée au système de santé publique promue par le gouvernement chinois depuis les années 1950. Trois points seront discutés dans cet article: le premier introduit le contexte médical " pluriel " de la Chine contemporaine et évoque un débat récent sur l'intégration de la MCT dans le système de santé publique, qui a mobilisé des acteurs offi ciels, des intellectuels et la population générale. Le deuxième offre un éclairage sur la recherche et le développement à pa rtir de l'exemple de la recherche médicale sur le sida en MCT en Chine. Le dernier point porte sur les interfaces de savoirs thérapeutiques hybrides et leur mobilisation dans le cadre de la recherche en MCT et de la construction d'espaces de soins mondialisés.
Fichier principal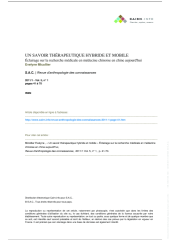 RAC.micollier_2011.pdf (504.64 Ko)
Télécharger le fichier
Origin : Publisher files allowed on an open archive