Management of the AIDS epidemic and local/global use of Chinese medicine
My article is in two parts, the first of which seeks to contextualise the subject in the framework of the major realignment of health policies in 2004. The second part deals with the integration of TCM in therapies and research on HIV. This process, in its conceptual and operational modes, is concrete evidence of the "biomedicalisation" of TCM that accelerated in the 1990s. In the adaptation of existing and recommended treatments on an international level, combined treatments in biomedicine and TCM are the object of clinical research and practice. -Based on analysis of a number of publications and observations, I will give examples of clinical tests aimed at the scientific certification of AIDS treatments in the wider context of R&D in TCM.
Mon article est articulé en deux parties : la première s'attache à contextualiser l'objet dans le cadre des grandes lignes de la reformulation des politiques sanitaires en 2004. La deuxième partie porte sur l'intégration de la MCT dans les thérapies et les recherches sur le VIH. Ce processus, par ses modalités conceptuelles et opératoires, montre concrètement la " biomédicalisation " de la MCT qui s'est accélérée dans les années 1990. Dans l'adaptation des traitements existants et recommandés à un niveau international, des traitements combinés en biomédecine et en MCT font l'objet de pratiques et de recherche cliniques. À partir de l'analyse d'un certain nombre de publications et d'observations dans la mesure du possible, je donnerai des exemples d'essais cliniques visant à la validation scientifique de traitements du SIDA dans le contexte plus large de la recherche-développement (R&D) en MCT.
Fichier principal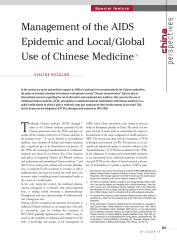 CP2009-1_art7.pdf (320.11 Ko)
Télécharger le fichier
Origin : Explicit agreement for this submission