Réflexion transculturelle en bioéthique à partir d'une expérience en Chine : construire un cadre théorique et méthodologique pour de futures coopération de recherche = Transcultural discussion in Bioethics drawn from research experience in China: building up a theoretical and methodological framework for further research cooperation
My article discusses bioethics in transcultural context and builds on an experience of conducting research in China in partnership with Chinese scholars and institutions. Key points are about the creation of ethical committees and their prerogatives, the regulation of experimenting in human and animal, and of donating and transplanting organs. Ethical issues are approached according to an anthropological reading. Three transversal lines for further research are suggested: global/local ethical governance applied to research ethics; implications of transnationalizing and delocalizing research practices with regards to governance; theoretical positioning -conceptual pluralism versus pragmatic pluralism--following actual confrontation to transcultural variations in research ethics. Moreover, this work claims for conceptualizing and implementing an ethics in context while assessing intangible (non-relative) principles based on knowledge production and a global patrimony.
L'article propose des éléments d'analyse pour une réflexion transculturelle en bioéthique qui s'appuie sur une expérience de coopération de recherche avec des collègues et des institutions chinoises. Les points de discussion portent sur la création des comités d'éthique et leurs prérogatives, sur la réglementation de l'expérimentation humaine et animale, enfin sur celle du don et de la transplantation d'organes. Les questions éthiques sont abordées selon une lecture anthropologique. Trois axes transversaux sont suggérés pour des recherches futures : la gouvernance 'éthique' globale/locale appliquée à l'éthique de la recherche, les implications de la transnationalisation et de la délocalisation des pratiques de recherche en matière de gouvernance, le positionnement théorique, pluralisme conceptuel/pluralisme pragmatique, face aux variations transculturelles en éthique de la recherche. Il conviendra en outre de souligner la nécessité de la conceptualisation et de l'application d'une éthique en contexte sans pour autant 'relativiser' des principes fondamentaux fondés sur la production de connaissances et l'existence d'un patrimoine mondial.
Fichier principal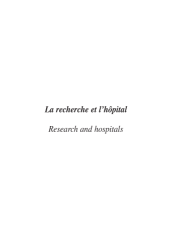 103-116_Chapitre_10_Micollier.pdf (51.42 Ko)
Télécharger le fichier
Origin : Explicit agreement for this submission