Repensar o desenvolvimento mundial : o Brasil se coloca em cena na Rio+20
The purpose of this article is to explain Brazil's position as a host to the United Nations Conference on Sustainable Development, Rio+20, to be held at Rio in June 2012. Brazil is indeed a leader for developping countries and intends to reformulate, in an original way, both conference themes: (a) Green Economy in the context of Poverty Eradication and Sustainable Development and (b) Institutional Framework for Sustainable Development. Based on innumerous data, interviews and preparatory texts analysis, we will present first the country's economic situation and later its actions in matters of environmental policies. This assessment will allow a better understanding of the country's positioning on behalf of an inclusive green economy (very similar to the policy conducted in the last years: strong growth and income distribution) and against the creation of a world environment agency.
Cet article se propose d'expliquer la position du Brésil comme hôte de la conférence sur le développement durable, RIO+20, qui se tiendra à Rio en juin 2012. Le pays se pose en effet comme le leader des pays du Sud et prétend reformuler de manière originale les deux thèmes de la conférence : (a) une économie verte dans le contexte du développement durable et l'éradication de la pauvreté, et (b) le cadre institutionnel pour le développement durable. A partir de nombreuses données, statistiques, interviews et analyses des textes préparatoires à la conférence, nous présenterons d'abord la situation économique du pays, puis ses actions en matière de politiques environnementales. Ces deux bilans permettent de mieux comprendre les prises de position du pays en faveur d'une économie verte inclusive (qui ressemble fort à la politique menée ces dernières années par le pays : choix d'une forte croissance et d'une distribution des revenus) et contre une agence mondiale de l'environnement.
Fichier principal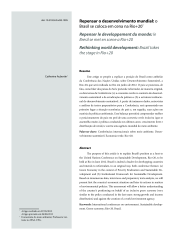 CA1905-10097-1-PB.pdf (167.31 Ko)
Télécharger le fichier
Origin : Publisher files allowed on an open archive