Nouvelles formes de socialisation du vivant au Sud : biotechnologies et gestion participative de la biodiversité
The development of biotechnologies and the emergence of an environmental concern in the early nineties converged in the need for a better use of biological diversity and genetic resources. The creation of a world wide framework for intellectual property rights on living matter or the management of biodiversity (Convention of Biological Diversity, CDB) have, since then, influenced the socialisation of biological matter in the countries of the South, in particular by giving an advantage to economic uses by creating a market for genes and biodiversity. This market for domestic as well as wild genetic resources seems less prominent today as local knowledge and traditional practices have been reconsidered and impose a participative type of management. The basic objective of this project is to analyze each type of actors and the institutions that participate in the definition of the appropriation regime of genetic resources by going beyond a comparison of what each team in this project has already been working on. In particular, the project will examine how this appropriation regime is corresponding to local knowledge and traditional practices.
Le projet BioTEK vise à comparer les jeux des acteurs et des institutions dans la gestion des ressources génétiques au Vietnam, Brésil et Mexique. Ces pays sont appelés à mettre en place pour répondre aux règles de l'OMC relatives aux droits de propriétés intellectuelles et aux objectifs de conservation de la biodiversité de la Convention sur le diversité biologique (CDB). La diversité des formes du vivant et la variété des formes d'innovations qui en résulte aboutissent aujourd'hui à des régimes d'appropriation des ressources génétiques très complexes. La manière dont les pays émergents et en développement mettent en œuvre ces régimes dans leur législation nationale revêt aussi, de fait, une grande palette de formes dont le présent projet entend dresser, sinon l'inventaire, des études de cas précises, approfondies et surtout comparativement significatives.
Fichier principal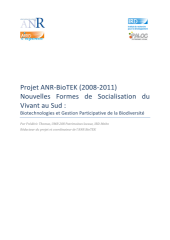 FThomas_BioTEK_ANR-LesSudsAujourd_hui.pdf (570.24 Ko)
Télécharger le fichier
Origin : Files produced by the author(s)