La Jordanie contestataire : militants islamistes, nationalistes et communistes : introduction
The waves of protest that swept through the Arab world in 2011 and 2012 and the toppling of the Tunisian and Egyptian regimes have focused attention on the opposition to authoritarian regimes. In Jordan, between censorship, repression and election rigging, political activism is limited despite the democratic opening of 1989. The apparent stability of the Jordanian regime is in fact based on complex and changing authoritarian processes that are implemented differently depending on the social and political arena. However, opposition does exist and different ways of protesting have emerged. The experience of the opponents sheds light on conditions concerning political commitments in a repressive regime. A field survey conducted over several years has made it possible to chart the paths of longstanding activists of different leanings: Islamists, nationalists and communists. With the exception of the Islamists, who have always been authorized - if sometimes repressed by the Jordanian monarchy -opposition has shifted from underground movements to a heavily controlled public sphere. These political journeys serve to highlight the general conditions for political activism in a repressive regime, but also the meaning individuals attach to their commitment and their chosen ideologies.
Les vagues de mobilisations dans le monde arabe en 2011 et 2012 ont remis sur le devant de la scène l'opposition aux régimes autoritaires. En Jordanie, entre censure, répression et falsification des élections, l'activisme politique est limité, malgré l'ouverture démocratique de 1989. La monarchie jordanienne est officiellement une monarchie constitutionnelle avec un parlement élu, mais politiquement c'est un système d'exclusion. L'apparente stabilité du régime jordanien est en fait basée sur de complexes et changeants processus autoritaires qui sont mis en place de manière différenciée selon les arènes politiques et sociales. Pour autant, l'opposition existe et des voies alternatives de contestation ont émergé. Le vécu des opposants éclaire alors les conditions de cet engagement politique face à un régime répressif. Une enquête de terrain de plusieurs années a permis de reconstituer les trajectoires de militants de longue durée issus des différentes tendances : islamistes nationalistes et communistes. Hormis les islamistes qui ont toujours été autorisés, bien que parfois réprimés par la monarchie jordanienne, les opposants sont passés d'un militantisme clandestin à une scène publique très contrôlée. À travers ces parcours politiques, apparaissent les conditions générales du militantisme politique face à un régime répressif, mais aussi le sens donné par chaque individu à son engagement et à l'idéologie qui le sous-tend.
Fichier principal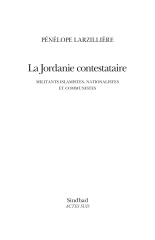 sommaire_et_introduction.pdf (542.13 Ko)
Télécharger le fichier
Origin : Explicit agreement for this submission