Effects of a targeted shrimp (Penaeus notialis) exploitation on fish catches in the Gambia estuary .
Results of an annual survey of fishing activities and catches in the Gambia estuary (200 km long), carried out from June 2001 to May 2002, indicated that fishing effort targets mainly (66% of fishing trips) shrimps. As a result of the globalisation of fish markets, the fishery has become a quasi mono-exploitation of shrimp for exporting. At the opposite, fishing activities focusing on fish were low and carried out with large and medium mesh drift nets, gill nets and surrounding nets (17% of fishing trips), handlines and longlines (15%). The annual catch, estimated at 2350 tonnes for the estuarine part of the River Gambia, consisted of 1800 t of fish and 550 t of shrimp. Stownets were the most efficient gear accounting for 50% of the total production (550 t of shrimp and 600 t of fish) while other significant techniques were mainly drift nets (21%), longlines (11%) and gillnets (5%). Fish catches were composed with 55 fish species among which 16 species accounted for 90% of the annual catch. The average catch length of these first sixteen species was 295 mm, clearly demonstrating that fishing for fish was targeting large fish. The effects of the targeted shrimp exploitation resulted in a low fishing effort for fish leading to low fish landings and consequently to an under exploitation of fish resource in the Gambia estuary.
Impacts d'une exploitation spécialisée de la crevette (Penaeus notialis) sur les captures de poisson dans l'estuaire de la Gambie. Les résultats d'un suivi annuel des activités de pêche et des captures dans l'estuaire de la Gambie (200 km de long), mené de juin 2001 à mai 2002, montrent que l'effort de pêche était principalement concentré sur l'exploitation de la crevette (66 % des sorties de pêche). Suite à la mondialisation des marchés, la pêcherie a évolué vers une quasi mono exploitation de la crevette, les produits étant destinés à l'exportation. A l'inverse, les activités ciblant le poisson étaient faibles et menées à l'aide de filets dérivants, dormants ou encerclants à larges ou moyennes mailles (17 % des sorties de pêche), de lignes à main et de palangres (15 %). Les captures annuelles, estimées à 2350 tonnes pour la partie estuarienne du fleuve Gambie, comprenaient 1800 t de poisson et 550 t de crevette. Les filets à crevettes étaient les plus efficaces capturant 50 % de la production totale (550 t de crevette et 600 t de poisson). Les autres engins intervenant significativement dans les captures étaient principalement les filets dérivants (21 %), les palangres (11 %) et les filets dormants (5 %). Les prises de poisson étaient composées de 55 espèces parmi lesquelles les seize premières représentaient 90 % des captures annuelles. La moyenne des tailles de capture de ces seize espèces était élevée (295 mm), indiquant clairement que l'effort de pêche se concentrait sur des espèces et/ou individus de grande taille. Les conséquences de la forte spécialisation des pêcheries sur la crevette se traduisent par un faible effort de pêche sur le poisson conduisant à de faibles captures totales et en définitive à une sous exploitation de la ressource en poisson dans l'estuaire.
Fichier principal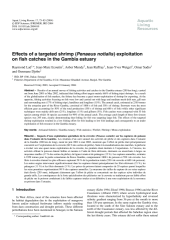 Weigel, Gambia.pdf (1.05 Mo)
Télécharger le fichier
Origin : Files produced by the author(s)