Mitochondrial phylogeny of grey mullets (Acanthopterygii: Mugilidae) suggests high proportion of cryptic species
The low level of morphometric variability and the poor phylogenetic information borne by the morphoanatomical characters used thus far in the systematics of grey mullets (Mugilidae) emphasize the utility of molecular systematics in this family. A recent mitochondrial phylogeny of grey mullets has uncovered multiple deep lineages within several species, flagging putative cryptic species. Here, we considered that several of the deeply divergent lineages represent separate species based on either the tree topology, independent data from nuclear markers, geographic distributions, or a combination of the foregoing. By analogy with these well-documented cases, we considered other deep lineages in seven genera we focused on to represent putative cryptic species. Up to two cryptic species were thus potentially detected in the genus Chelon, three in Crenimugil (including two within the single C. seheli), two in Dajaus, one in Ellochelon, 16 in Mugil (including 13 within the single M. cephalus), two in Osteomugil, and 10 in Planiliza. Wherever possible, we kept the current species epithets to designate those lineages that unambiguously correspond to the type material, based on type locality, and we assigned arbitrary letters (sp. A, B, etc.) to the other lineages. We present a molecular diagnosis for 24 of the species analyzed in this work, as well as for 25 putative cryptic species.
Le faible niveau de variabilité morphométrique et la faible information phylogénétique portée par les caractères morpho-anatomiques utilisés à ce jour dans la systématique des mulets (Mugilidae) montrent l'intérêt de la systématique moléculaire dans cette famille. Une phylogénie mitochondriale récente de la famille des Mugilidae a montré de multiples lignées profondes au sein de plusieurs espèces, signalant de possibles espèces cryptiques. Ici, nous avons considéré que plusieurs de ces lignées profondes représentaient des espèces distinctes en nous basant, soit sur la topologie de l'arbre, soit sur des données génétiques nucléaires obtenues indépendamment, soit sur les distributions géographiques. Par analogie avec ces cas bien documentés, nous avons examiné d'autres lignées profondes dans sept genres sur lesquels nous avions concentré notre effort d'échantillonnage d'espèces. Jusqu'à deux espèces cryptiques putatives ont ainsi détectées dans le genre Chelon, trois dans le genre Crenimugil (dont deux dans le seul C. seheli), deux dans le genre Dajaus, une dans le genre Ellochelon, 16 dans le genre Mugil (dont 13 dans le seul M. cephalus), deux dans le genre Osteomugil, et 10 dans le genre Planiliza. Autant que possible, nous avons conservé les épithètes d'espèces actuelles pour désigner les lignées qui correspondent clairement au matériel-type sur la base de la localité-type, et nous avons attribué des lettres arbitraires (sp. A, B, etc.) aux autres lignées. Nous présentons une diagnose moléculaire pour 24 des espèces analysées dans le présent travail, ainsi que pour 25 espèces cryptiques présumées.
Fichier principal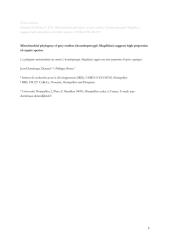 MUGILIDAE_Mugilidae species p HAL.pdf (1.05 Mo)
Télécharger le fichier
Origin : Files produced by the author(s)