Exils décalés : les registres de la nostalgie dans les musiques palestiniennes au Liban
Palestinian cultures are irrigated by the 1948 trauma, year of the Exodus of over 700 000 people among which a part is then getting durably settled in Lebanon. Memories are worked by this Nakba event, the disaster, according to different modalities recovering political leadership con icts and individual stake of narration. The maintaining of a nostalgia feeling taking place around a few amount of references and symbols related to the lost country are to be directly linked with exodus temporalities, ways of feeling it within different refugees' generations and on its duty of memory. The music produced in the orchestras linked to different political organizations is directly used for a memorial project and aims at the identity support. But, within this cultural formalism a multiplicity of diversions is appearing which are doing justice of personal emancipation and of exit from collec- tive orders stakes. The institutional nostalgia registers are then crossing those of lived nostalgia developed by individuals about their personal route, times and ages of their own life. Within nation- alist musics, various registers are getting mixed that way producing "unwedged exodus" throwing back to divergent temporalities of the collective and of the individual.
Les cultures palestiniennes sont irriguées par le traumatisme de 1948, année de l'exode de plus de 700 000 personnes dont une partie s'implante alors durablement au Liban. Les mémoires sont travaillées par cet événement de la Nakba, la catastrophe, selon différentes modalités qui recouvrent des con its de leadership politique et des enjeux individuels de récit. L'entretien d'un sentiment de nostalgie prenant place autour d'un petit nombre de référents et de symboles liés à la patrie perdue est à relier directement aux temporalités de l'exil, à la façon dont il est ressenti chez les différentes générations de réfugiés et sur le devoir de mémoire qui lui est lié. La musique produite dans les orchestres liés aux différentes organisations politiques sert directement un projet mémoriel et vise au soutien de l'identité. Mais, au sein de ce formalisme culturel se font jour de multiples détournements qui font justice d'enjeux personnels d'émancipation et de sortie des ordres collectifs. Les registres de la nostalgie institutionnelle se croisent alors avec ceux des nostalgies vécues qui sont développés par les individus à propos de leur parcours, des temps et des âges de leur vie. Dans l'enceinte des musiques nationalistes, des registres variés se mêlent ainsi, produisant des « exils décalés » renvoyant à des temporalités divergentes du collectif et de l'individuel.
Fichier principal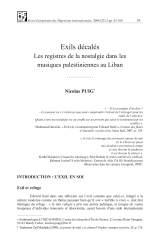 REMI.pdf (250.58 Ko)
Télécharger le fichier
Origin : Files produced by the author(s)