Définir un cadre méthodologique commun en cartographie participative : l'atelier collectif de Cabrousse en Casamance (Sénégal), de la théorie à la pratique
The aim of this article is to show the collective multi-partnership dynamics, inspired by a participatory mapping workshop, organized in the rural community of Diembéring in Casamance, a southwestern country of Senegal, in July 2014. The purpose of this workshop was to catch the past and present organisation of the village's spaces and their uses from the maps of the "terroirs", or communal territories, realized by and with the local people of three localities of this rural community, Diembéring, Bouyouye and Cabrousse. This workshop made possible to bring out the traditional knowledge and know-how of the local people in terms of representation of their spaces, but also to highlight issues that are often difficult to apprehend, such as land conflicts. Coupled with other tools of field surveys (interviews, transects, historical profiles, agricultural calendar, etc.), participatory mapping pointed out the crisis that rice farming is experiencing in Casamance and its profound socio-cutural consequences on the Joola communities. Beyond the production of maps and new co-constructed knowledge, this workshop led to explicitly formulate the needs of the local people and their questions on the future of their terroirs and to accompany them in their advocacy (commitment of multidimensional dialogue ) with the local or deconcentrated authorities of the Senegalese State. It also askes the experts, scientific and technical, about their intellectual posture, and their commitment to applied research.
L'objectif de cet article est de montrer la dynamique collective multi-partenariale insufflée par un atelier de cartographie participative, organisé dans la commune rurale de Diembéring en Casamance au sud-ouest du Sénégal, en juillet 2014. Il s'agissait de saisir l'organisation, passée et actuelle, des espaces villageois et leurs usages à partir des cartes de terroirs, réalisées par et avec les populations locales de trois localités de cette communauté rurale, Diembéring, Bouyouye et Cabrousse. Cet atelier a permis de faire émerger les savoirs et savoir-faire traditionnels des communautés villageoises en termes de représentation de leurs espaces, mais aussi de mettre en lumière des questions souvent difficiles à appréhender, comme les conflits fonciers. Couplée avec d'autres outils d'enquêtes de terrain (entretiens, transects, profils historiques, calendrier agricole, etc.), la cartographie participative a mis en évidence la crise que traverse la riziculture en Casamance, et ses conséquences sur les fondements des communautés joola. Au-delà de la production de cartes et de nouvelles connaissances co-construites, cet atelier a conduit à formuler explicitement les besoins des acteurs locaux et leurs questions sur l'avenir de leurs terroirs et à les accompagner dans leurs plaidoyers (engagement de dialogue multidimensionnel) auprès des autorités locales ou déconcentrées de l'Etat sénégalais. Il interroge par ailleurs les experts, scientifiques et techniques, sur leur posture intellectuelle et leur engagement dans la recherche-action.
Fichier principal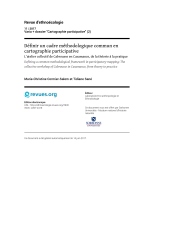 Cormier et al_numero 11.pdf (2.33 Mo)
Télécharger le fichier
Origin : Files produced by the author(s)