Migrations africaines et christianismes au Maroc : de la théologie des migrations à la théologie de la pluralité religieuse
African migration and Christianism in Morocco. Of the theology of migrations in the theology of religious plurality The blocking of the European and African borders since about twenty years and the deficit of real migratory policies, except in Morocco where two campaigns of regularization took place since 2013, encourage migrants to settle down more and more durably in Mediterranean Africa. In this context they become the actors of the deployment of a multiple and dynamic religious offer which accompanies a religious market prospering around religious institutions and dynamizes again places of worship, around associations and NGO denominational or not denominational, but also around places of religious formation. The story of the recent foundation of a Christian university place of education in Rabat in Morocco since 2012, dedicated to the future religious leaders native of sub-Saharan Africa, the Ecumenical Institute of Theology Al Mowafaqa, will be the entrance of a larger reflection which accompanies the religious history of Christianity in Morocco, which, in echo of migrations, innovates, reinterprets, and rewrites a plural, inductive and more cosmopolitan theology. Keywords : migration, religion, marocco, christianism, théology.
Avec le renforcement des frontières de l'Europe depuis une quinzaine d'années, et faute de réelles politiques migratoires impulsées par les États du Sud mis à part la toute nouvelle politique de régularisation menée par le Maroc depuis 2013, les migrants venus d'Afrique subsaharienne s'installent de manière plus pérenne dans les pays d'Afrique méditerranéenne. De nombreuses instances religieuses ou d'origine confessionnelle s'organisent sur ces routes afin en outre, de faciliter l'accueil, la formation et l'accompagnement social et spirituel des migrants venus d'Afrique subsaharienne, créant un véritable marché religieux. Au Maroc l'arrivée des chrétiens depuis les années 80 a bouleversé le paysage religieux et les églises, dépeuplées depuis la fin du protectorat se sont remplies à nouveau et se sont également multipliées. En effet si le christianisme au Maroc renait et croît il s'est aussi diversifié du côté protestant avec l'arrivée de migrants ne se rattachant pas à des églises historiques européennes comme ce fut le cas durant la colonisation. Une multitude d'églises de maison se sont développées en parallèle, églises informelles mal contenues et parfois prosélytes pour certaines qui ont amenés le Maroc a expulser plus d'une centaine de pasteurs en 2011. Certains acteurs, membres des églises et du milieu dédié au débat interreligieux, se sont mis au défi d'encadrer la formation des responsables religieux, pouvant ainsi maîtriser une partie de l'encadrement théologique de ce christianisme bouillonnant mais aussi ouvrir sur des débats théologiques afférents aux trois religions monothéistes. La création rapide et récente, en 2012, d'un lieu de formation universitaire chrétien à Rabat au Maroc, à destination des futurs leaders religieux originaires d'Afrique subsaharienne, l'institut œcuménique de théologie Al Mowafaqa, sera l'entrée de cette réflexion. L'histoire de ce lieu, de cette espace de formation au cœur de la ville est rattaché à la mémoire chrétienne du Maroc mais ouvre comme nous le verrons sur des publics plus variés, ouverts à pluralité religieuse par un désir de connaître les débats théologiques attachés aux différentes religions. Ce christianisme qui se reconstruit n'est pas celui des colons, ni des croisades, ni celui des églises africaines transnationales, même si le lien n'est pas coupé il est le produit de tout cela. Cette entrée me permettra alors d'aborder une histoire religieuse en écho aux migrations qui innove, réinterprète, réécrit une histoire religieuse plus large, plus cosmopolite que celle des migrants et que celle du pays d'accueil ou de passage. Une histoire qui compose, qui s'adapte par le bas, qui interroge la théologie voire même qui prône une théologie de la migration, du mouvement et de la pluralité religieuse.
Fichier principal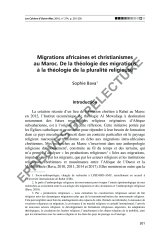 08-Sophie Bava (2).pdfrevuSB.pdf (3.63 Mo)
Télécharger le fichier
Origin : Files produced by the author(s)