The role of biographical triggers in dietary changes: Indian trajectories
El papel de los desencadenantes biográficos en los cambios alimentarios: trayectorias indias
Le rôle des déclencheurs biographiques dans les changements alimentaires : trajectoires indiennes
This article explores trajectories of eating vegetarian and non-vegetarian of people living in India by anchoring in a micro sociology of relationships with food and life course transitions. These trajectories, "in continuity" or "in rupture", thus depend on relationships with food (serene pleasure, anxious health, social) and biographical triggers. In fact, on the sidelines of the classic approaches which consider diet to be determined by caste or social class, or even sex, this reading grid looks at the reasons invoked by individuals who mention events, such as encounter, breakup, loss of a job, illness, involvement in a political party, age. All of these triggers modify the relationship with food, the body, and other individuals. The ruptures are mainly related to the social environment (through triggers called "exogenous" to the person) and to the change of stage in the life cycle (called "processual"). The recurrences in these accounts inform on how society regulates a life course and on new collective ways of considering social position such a biographisation of the life course. Indeed, and although these trajectories are following vegetarian and non-vegetarian models, the new "eggetarian" (egg eater) or "pescetarian" (fish eater) statuses are emerging as possible new identities, as well in the Indian society.
Este artículo explora las trayectorias alimentarias, vegetarianas y no vegetarianas, de las personas que viven en la India, basándose en una micro sociología de las relaciones con la comida y de las transiciones biográficas. Estas trayectorias alimentarias, "en continuidad" o "en ruptura", dependen de las relaciones con la comida (placer sereno, salud ansiedad, social) y de los desencadenantes biográficos. Al margen de los enfoques clásicos que consideran que la dieta está determinada por la casta o la clase social, e incluso por el sexo, este enfoque analiza las razones invocadas por las personas que mencionan eventos, tales como el conocer a alguien, una ruptura amorosa, la pérdida de trabajo, la enfermedad, la participación en un partido político, la edad. Todos estos factores desencadenantes modifican las relaciones con la comida, el cuerpo y con las otras personas. Los cambios en las trayectorias alimentarias están vinculados principalmente al entorno social (a través de desencadenantes llamados "exógenos" a la persona) y al cambio de etapa en el ciclo de vida (llamado "proceso"). Las recurrencias en estos relatos aportan información sobre la forma en que la sociedad regula un curso de vida y las nuevas formas colectivas de considerar la posición social o un curso, cada vez más biográfico. De hecho, y aunque estas trayectorias se organizan según modelos vegetarianos y no vegetarianos, los nuevos estados de "ovotariano" (comedor de huevos) o "pescetario" (comedor de pescado) están emergiendo como posibles nuevas identidades, en la sociedad india también.
Cet article explore les trajectoires alimentaires végétariennes et non-végétariennes, de personnes vivant en Inde, en s'ancrant dans une micro sociologie des rapports à l'alimentation et des transitions biographiques. Ces trajectoires alimentaires, « en continuité » ou « en rupture », dépendent de rapports à l'alimentation (plaisir serein, santé anxieux, social) et de déclencheurs biographiques. En marge des approches classiques qui considèrent l'alimentation comme déterminée par la caste ou la classe sociale, voire le sexe, cette grille de lecture s'intéresse aux motifs invoqués par les individus qui mentionnent des évènements, tels une rencontre, une rupture amoureuse, la perte d'un emploi, une maladie, l'implication dans un parti politique, l'âge. Autant de déclencheurs qui modifient les rapports à l'alimentation, au corps, et aux autres individus. Les changements opérés dans les trajectoires alimentaires sont liés principalement à l'environnement social (au travers de déclencheurs dits « exogènes » à la personne) et au changement d'étape dans le cycle de vie (dits « processuels »). Les récurrences dans ces récits renseignent sur la manière dont la société régule un parcours de vie et les nouvelles façons collectives d'envisager la position sociale ou un parcours, de plus en plus biographique. En effet, et bien que ces trajectoires soient organisées selon des modèles végétarien et non-végétarien, les nouveaux statuts « eggetarian » (mangeur.e d'oeuf) ou « pescetarian » (mangeur.e de poisson) émergent telles de nouvelles identités possibles dans la société indienne.
Fichier principal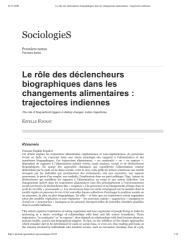 FOURAT 2020- Le rôle des déclencheurs biographiques dans les changements alimentaires _ trajectoires indiennes.pdf (797.58 Ko)
Télécharger le fichier
Origin : Files produced by the author(s)