Bilan de l'avifaune des atolls Chesterfield-Bampton et d'Entrecasteaux (Nouvelle-Calédonie)
New Caledonia is a French territory situated in Oceania with a total area of 18,575 km², including 16,346 km² for the main island called Grande Terre. This archipelago is bordered to the east and south by the South Pacific Ocean and to the north and west by the Coral Sea, which is considered one of the last tropical marine regions of the planet relatively undamaged by human activities. Several coral islets and sandy cays are scattered there, including those of the Chesterfield-Bampton and Bellona atolls, situated more than 530 km west of New Caledonia's Grande Terre, and those of the d'Entrecasteaux atolls, located more than 220 km north-west of Grande Terre. These uninhabited islets are of great ornithological interest as they host large seabird colonies, the most numerous being the wedge-tailed shearwater Ardenna pacifica and the sooty tern Onychoprion fuscatus. Despite the geographical isolation of these islets and some protection, various threats such as overfishing, marine pollution, introduction of rats and human disturbance weigh or have weighed on their breeding avifauna. To review the populations of the seabirds breeding on these atolls over the last de-cades, Philippe Borsa and Alice Philippe, from the French Research Institute for Sustainable Development (IRD) and Aubert Le Bouteiller, of the Société Calédonienne d'Ornithologie, compiled the reports of several ornithological missions and observations available for the last decades, and they presented their results in two articles published in 2021 in the Bulletin de la Société Zoologique de France. Philippe Borsa, research director at IRD, answered our questions on the current situation of the avifauna of the atolls of Entrecasteaux and Chesterfield-Bampton and Bellona, and on the threats it faces.
La Nouvelle-Calédonie est un territoire français d'Océanie d'une superficie totale de 18 575 km², dont 16 346 km² pour l'île principale, qui est appelée la Grande Terre. Cet archipel est bordé à l'est et au sud par l'océan Pacifique Sud et au nord et à l'ouest par la mer de Corail. Celle-ci comprend plusieurs atolls parsemés d'îlots coralliens, dont ceux de Chesterfield-Bampton et de Bellona, situés à plus de 530 km à l'ouest de la Grande Terre, et ceux d'Entrecasteaux, localisés à plus de 220 km au nord-ouest. Inhabités, ces îlots sont d'un grand intérêt ornithologique car ils accueillent d'importantes colonies d'oiseaux marins, les plus nombreux étant le puffin du Pacifique Ardenna pacifica et la sterne fuligineuse Onychoprion fuscatus. Malgré l'isolement géographique de ces atolls et les protections mises en place, différentes menaces pèsent sur leur avifaune nicheuse, comme la surpêche, la pollution marine, les rongeurs introduits et le dérangement humain. Afin de faire un point sur les populations d'oiseaux marins se reproduisant sur ces îlots et sur leur évolution au cours des dernières décennies, Philippe Borsa et Alice Philippe, de l'Institut de recherche pour le développement (IRD), et Aubert Le Bouteiller, de la Société calédonienne d'ornithologie, ont compilé les rapports de missions ornithologiques et les observations disponibles, et ont présenté leurs résultats dans deux articles publiés en 2021 dans le Bulletin de la Société zoologique de France. Philippe Borsa, directeur de recherche à l'IRD, a ré-pondu à nos questions sur l'avifaune des atolls d'Entrecasteaux et Chesterfield-Bampton et de Bellona, et sur les menaces qui pèsent sur elle.
Fichier principal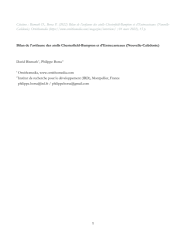 Interview Ornithomedia p. haL_20220327.pdf (1.15 Mo)
Télécharger le fichier
Origin : Files produced by the author(s)