Donner sens et cohérence à la désertion en contexte de guerre : les émotions d'ex-militaires syriens
Faced with the bloody repression of protests against the regime of Bachar al-Assad and the violence of the subsequent conflict, between 2011 and 2013 several thousand Syrian soldiers chose to leave the regular army. By considering the process by which their desertion took place rather than its causes, the present paper follows in the footsteps of recent work that examines the trajectories of actors in war as part of a continuum running from the pre-war to postwar period. It simultaneously examines the transformation of deserters' social status over the course of the conflict as well as the emotions and moral sentiments emphasized in their accounts. This approach first seeks to highlight the processes by which a coherent account is developed to integrate the desertion into the former soldiers' past and present trajectories. It then attempts to understand how the frontiers between groups and "emotional communities" are redefined in a context of internal war.
Face à la répression sanglante des manifestations contre le régime de Bachar al-Assad et à la violence du conflit qui s'est ensuivi, plusieurs milliers de militaires syriens ont fait le choix de quitter l'armée régulière entre 2011 et 2013. En questionnant le processus de cette désertion, plutôt que ses causes, cette contribution s'inscrit dans la lignée de travaux récents qui ont envisagé les trajectoires des acteurs en guerre sur un continuum allant de l'avant-guerre à l'après-guerre. Elle analyse conjointement les mutations des statuts sociaux occupés par les déserteurs au fur et à mesure de l'évolution du conflit, ainsi que les émotions et sentiments moraux mis en avant dans leurs récits. Cette approche vise tout d'abord à mettre en relief les procédés de mise en cohérence de la désertion avec les trajectoires passées et présentes des ex-militaires ; ensuite à comprendre la redéfinition des frontières entre les groupes et les « communautés émotionnelles » dans un contexte de guerre interne.
Fichier principal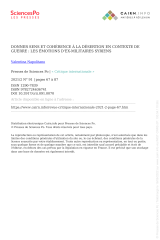 CRII_091_0070-2.pdf (590.43 Ko)
Télécharger le fichier
Origin : Files produced by the author(s)