Développement local, conflit de voisinage et fragilisation de la cohésion sociale dans le canton Touka / Oumé (Côte d'Ivoire)
In Côte d'Ivoire, the issue of local development is undergoing a major transformation. Many practices in the direction of the weakening of social cohesion highlight them. These practices, whose manifestations are not disconnected from the disaggregation of social relations with the migrant as they occurred under the Single Party from 1960 to 1990, are developing «remarkably» on reception areas such as Canton Touka. As part of a mixed approach, the research presented here is based on a series of individual, group and questionnaire interviews conducted from 2013 to 2016. The experiences of local development studied are permeated by forms of neighborhood struggle or rivalry around community infrastructure, identity withdrawal, The European Union is also committed to promoting the development of the European Union. The results of this work show that the issues of visibility, legitimation and control of inhabited space are reinforced around the denominations of "natives" and "foreigners". The latter direct the renewal of community reports to locally defined properties such as "poor development".
En Côte d'Ivoire, la question du développement local connait une transformation majeure. De multiples pratiques allant dans le sens de la fragilisation de la cohésion sociale mettent cela en relief. Ces pratiques dont les manifestations ne sont pas déconnectées de la désagrégation des rapports sociaux avec le migrant tel qu'ils se sont opérés sous le Parti Unique de 1960 à 1990, se développent « remarquablement » sur des espaces de leur accueil tels que le Canton Touka. Ainsi, inscrite dans une approche mixte, la recherche, présentée ici, procède d'une série d'entretiens individuels, collectifs et de questionnaires menés de 2013 à 2016. Les expériences du développement local étudiées sont traversées par des formes de lutte de voisinage ou de rivalités autour d'infrastructures communautaires, de repli identitaire, de désolidarisation et de domination politique produites sur la base ethnique. Les résultats de ce travail montrent que, les enjeux de visibilité, de légitimation et de contrôle de l'espace habité se renforcent autour des dénominations d'« autochtones » et d'« étrangers ». Ces dernières orientent le renouvellement de rapports communautaires vers les propriétés localement définies comme celles du « mal développement ».
Fichier principal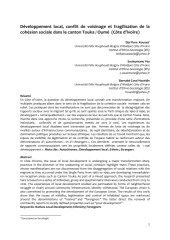 DEVELOPPEMENT COMMUNAUTAIRE TEXTE.pdf (510.77 Ko)
Télécharger le fichier
Origin : Files produced by the author(s)